Palestinian Central Bureau of Statistics (PCBS) 
Press Release on Results of Domestic and Outbound Tourism, 2012 
Highest Number of Domestic Trips in the Gaza Strip
In Palestine, 35% of households (at least one Household member) participated in a domestic trip during 2012: 20% in the West Bank compared to 62% in the Gaza Strip.
Of households participating in domestic trips, 36% made one trip, 21% made two trips, and 43% participated in three trips or more.
Frequency of Domestic Trips by Traveled Households in Palestine, 2012 (%)
Region

No. of Trips

Total

1

2

+3

Palestine

36.2

20.5

43.3

100

West Bank

54.4

24.3

21.3

100

Gaza Strip

25.2

18.2

56.6

100
The most visited provinces in the West Bank were Tulkarm 24%, followed by Nablus at 21%.  In the Gaza Strip, Khan Younis and Gaza governorates were the most visited,  each by 31% of traveled households, and 18% of traveled households visited  North Gaza governorate.
The average household expenditure during domestic trips was USD 47: USD 66 in the West Bank compared to USD 42 in the Gaza Strip.
Services Available in Sites Visited in Palestine
Of locations visited in Palestine, 89% of households reported the presence of restaurants and parks at tourism sites,  while 88% had health facilities, 70% had a cafe and 28% had a swimming pool.  Households rated 27% of the services provided by restaurants and parks as very good compared to 12% of services provided by a cafe and only 5% of health facilities.
Outbound Tourism in the West Bank Higher than in Gaza Strip
Survey results indicate that 11% of households (one member at least) traveled outside Palestine during 2012: 13% of West Bank households compared to only 6% of households in Gaza Strip.
Percentage Distribution of the Households by Conducted of Outbound Trips and Region, 2012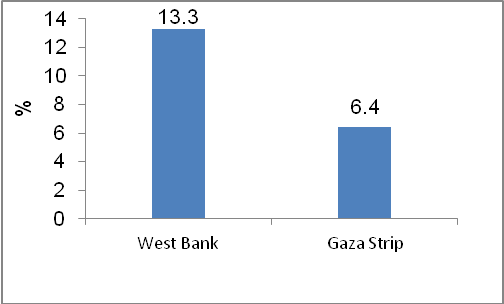 Jordan Main Destination for Outbound Trips
In trips abroad by households in Palestine, 40% travelled to Jordan, 30% to Saudi Arabia, 12% to Egypt, and 10% to Israel. In addition, 2% of households visited Turkey.
Main Purposes of Outbound Trips
Survey results reveal that 46% of households in Palestine visited relatives and friends, and 29% travelled for religious purposes, 20% of those who traveled abroad did so for leisure purposes and 6% travelled for business or work purposes.
For the organization of trips, 70% of households organized outbound trips themselves, and 30% used the services of a travel agent.
Average household expenditure during an outbound trip was USD 1,456 of which USD 442 was spent on shopping and USD 351 was spent on tourism services.
PCBS conducted the Domestic and Outbound Tourism Survey 2012 during the period 30/12/2012 - 28/03/2013. The survey provides data on households in Palestine undertaking domestic and outbound trips.