Palestinian Central Bureau of Statistics (PCBS) 
Press Release on Israeli Settlements in Palestine
Around 600 thousands Settlers in the West Bank, Half of them are in Jerusalem Governorate
There were 150 settlements in the West Bank at the end of 2014. The majority are located in Jerusalem governorate: 26 settlements, of which 16 are on land annexed by Israel (J1)[1], and 10 settlements in Jerusalem (J2).
Number of Israeli Settlements in the West Bank by Governorate, 2014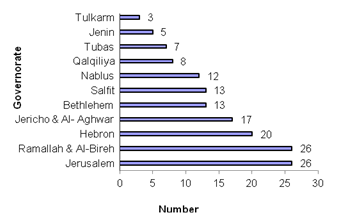 Data indicate that the number of settlers in the West Bank at the end of 2014 was 599,901.
Number of Settlers in the West Bank Settlements by Year and Region 2009 -2014
Year

Region

Jerusalem (J1)1

West Bank

2009

192,768

506,869(R)

2010

196,178

524,952(R)

2011

199,647

542,997(R)

2012

203,176

562,747(R)

2013

206,767(R)

580,762(R)

2014

210,420

599,901
R: revised data
Most settlers (286,997) are concentrated in Jerusalem governorate, constituting 47.8% of all settlers in the West Bank. Of these, 210,420 settlers are in the Jerusalem (J1) area. Other settlers are in Ramallah & Al-Bireh governorate (120,417 settlers), Bethlehem governorate (72,626 settlers), and Salfit governorate (37,350 settlers).  The governorate with the lowest number of settlers was Tubas with 1,845 settlers.
Number of Israeli Settlers in the West Bank by Governorate, 2014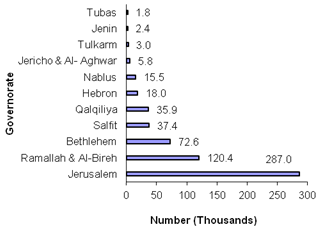 ---
[1]  Includes that part of Jerusalem which was annexed forcefully by Israel following its occupation of the West Bank in 1967