Press Release by Palestinian Central Bureau of Statistics (PCBS) and  Environment Quality Authority on World Environment Day
 under the theme 'Beat Plastic Pollution'
The World Environment Day (WED) is celebrated annually on the 5th of June since 1972. WED is the United Nations' principal tool for encouraging worldwide awareness and action for the environment.
The 2023 theme for WED will highlight the solution to plastic pollution under the title "Beat Plastic Pollution" which calls for harmony and sustainable planet.
More than 400 million tons of plastic are produced yearly, half of which is designed to be used only once.
Also, less than 10% of this plastic material is recycled; however, about 19-23 million tons end up in lakes, rivers and seas.
In order to confront plastic pollution in the world, the fifth session of the United Nations Environment Assembly, held in Nairobi in 2022, has adopted a historic resolution to develop an international legally binding instrument on plastic pollution by 2024. Accordingly, State of Palestine participates in the work of the intergovernmental negotiating committee charged with developing this instrument aimed at setting the rules and procedures to reduce plastic production and consumption.
The Waste Sector in Palestine
According to the data of the Ministry of Local Government, 2022, the generated municipal solid waste[1](MSW) in Palestine is 1.7 million ton/year               (1.1 million ton/year in the West bank and 0.6 million ton/day).

The per capita generation rate is 1kg/day, which varies from 0.93-2.78 kg/day in urban regions and from 0.73 to 1.14 kg/day in rural regions, while the daily waste generation average per capita in refugee camps reach around 0.72 kg/day.
The State of Palestine has developed a national strategy for solid waste management, which includes a set of interventions aimed at sound environmental management regarding plastic waste, in addition to the provisions and articles of Law No. 7 of 1999 regarding the environment, which regulates a set of special provisions aimed at reducing the production of solid waste, in particular Article (8) and Article (23) of the Law, which prohibit dumping, burning or disposing of solid waste except in designated places.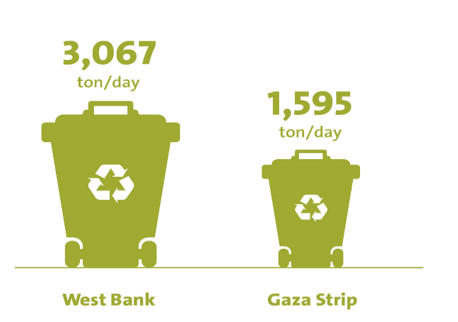 Quantity of Municipal Solid Waste Generated in Palestine by Region, 2022
Source: Ministry of Local Government, 2023. Data Book on Solid Waste Management in Palestine.
Plastic Pollution Threats Humans and Nature
Plastic is considered as one of the most important components of solid waste in Palestine, it formed about 16.4% of the total solid waste in the West Bank and about 14.0% of the total solid waste in Gaza Strip.

On the other hand, Palestine suffers from the absence of any Joint Services Council for Solid Waste Management (JSC) that would practice recycling within its own capabilities, except for the treatments that are ongoing by private operators in most cases like in Jericho and Jerusalem Governorates.
Percentage of Solid Waste Composition in the West Bank, 2022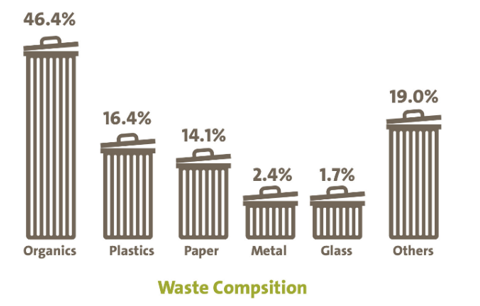 Source: Ministry of Local Government, 2023.  Data Book on Solid Waste Management in Palestine.
The percentage of treated hazardous waste[2] was 7% of the total generated waste during 2022, and it is expected to reach 10% by 2023.
Percentage of Hazardous Waste that is Treated out of
the Total Generated Waste by Year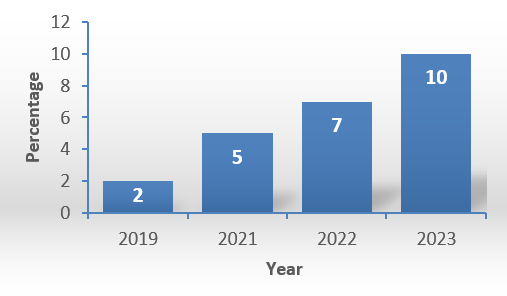 Source: Environment Quality Authority, Cross-Sectoral Environment Strategy
Plastics industry is one of the largest manufacturing in the Palestinian economy
Data of economic surveys, 2019 showed that there are 243 working plastic establishments in Palestine in the private and non-governmental sectors, in addition to that there are 3,486 employed in this field, while the total added value of the plastic industries sector amounted to about USD 64 million in 2019.
Data showed that the total imports of raw plastic reached USD 327 million in 2021 compared to USD 216 million in 2015. 
Israeli violations toward the Palestinian environment
The State of Palestine suffers from the excessive use of plastic materials and products, which is considered a difficult challenge to the environment in Palestine, in addition to the environmental crimes of the Israeli occupation at all levels, with the aim of destroying the Palestinian environment and making it unlivable, especially with regard to the smuggling of waste and hazardous materials, including plastic waste,. Hence, data from the Environment Quality Authority indicate that during 2022, there were 37 cases of smuggling of solid, liquid and hazardous waste that were seized, represented by trucks carrying solid waste coming from Israeli areas, tanks for draining liquid waste, in addition to chemical waste, used car tires, plastic and other dangerous waste, where the Palestinian side returned the seized smuggled waste to the Israeli side.
These smuggling operations were concentrated in Qalqiliya Governorate with 9 cases, and 6 cases in Ramallah and Tulkarm. While the rest of the cases were distributed among the rest of the governorates.
The reality necessitates that we have to take the initiative to reduce plastic waste production and use alternative materials, and not burning or disposing them as well in the designated places, as plastic materials have become a severe impact on the environment, in addition to their contribution to climate change, which results in environmental and health damages.