Palestinian Central Bureau of Statistics (PCBS)
Press Release by Palestinian Central Bureau of Statistics (PCBS) on World Environment Day
World Environment Day (WED) is celebrated annually on the 5 June. The theme for this year is "Seven Billion Dreams.  One Planet.  Consume with Care", a campaign to raise awareness of environmental issues in each country.
The well-being of humanity, the environment, and the functioning of the economy, ultimately depend upon the responsible management of the planet's natural resources.  Evidence showed that people are consuming far more natural resources than what the planet can sustainably provide.
The Palestinian Environment Strategy (PES) defined a number of crucial and sensitive issues. These include: the depletion of water resources, poor water quality, depletion of natural resources, destruction of land and soil erosion, air pollution and noise, contamination of the coast and marine environment, decline of the natural environment and biodiversity, distortion of the landscape, and the threat to Palestinian heritage and historical legacy.
High Population Density and Limited Area of Land Available
Because of the small area of ​​Palestine, which is about 6,020 km2, population density is acute, mainly in Gaza Strip, where live around 1.76 million people on a besieged area of 365 km2; Moreover, Palestine has high natural demographic growth due to elevated fertility rates.  Population density estimated about        756 persons/km2 in Palestine in 2014. Furthermore, population growth estimates show it will total around 4.68 million persons in mid 2015, and it is expected to rise to 5.37 million in mid 2020.
Continuous Increase in Water Consumption
The amount of water supplied for domestic purposes in West Bank during 2013 reached 100.9 million cubic meters; it was about 104.8 million cubic meters in Gaza Strip. Consumed water in the West Bank was about 71.9 million cubic meters, compared to 57.7 million cubic meters in 2013 in Gaza Strip.
Increasing pressure on energy sources
Final consumption of energy in Palestine in 2011 was about 43  thousand Terajoules (TJ), and this consumption rose in 2012 to reach 50 thousand TJ, and the pressure on energy sources continued to increase, so the consumption reach in year 2013 about 52 thousand TJ. 
Final Energy Consumption in Palestine, 2009-2013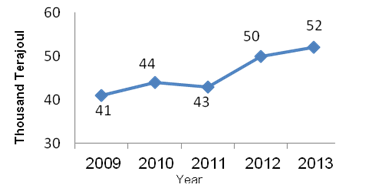 Source: Palestinian Central Bureau of Statistics.  Energy Balance in Palestine, 2009-2013. Ramallah – Palestine.
Terajoul: 1012 Joul.
Increasing of Produced Solid Waste Quantities in Palestine 
Palestine is witnessing a steady increase in solid waste output. Municipal solid waste output in Palestine in mid 2011 totaled about 1.47 million tons, and rose through mid 2014 to reach about 1.60 million tons. It is expected to reach 1.70 million tons in mid 2015.
Ecological Footprint (EF) in Palestine the Lowest of Neighboring Countries
EF represents the demand for natural resources by humans while Biological Capacity (BC) represents the supply of these resources. The ideal situation requires that BC equals EF to maintain the ecological balance in nature, but when the EF exceeds the BC, there will be a deficiency in the natural resources in a given country.
In Palestine, and according to the Living Planet Report 2012 (LPR), based on 2008 data, the EF of Palestine totaled 0.46 hectares per capita,[1] i.e., any individual living in Palestine consumes the production of 0.46 hectares. The BC of Palestine is 0.13 hectares per capita, so a deficit of 0.33 hectares exists.
BC and EF for Selected Countries, 2012 (hectares / capita)
| | | | |
| --- | --- | --- | --- |
| Country | EF | BC | Deficit |
| Palestine | 0.46 | 0.13 | 0.33 |
| Jordan | 2.13 | 0.24 | 1.89 |
| Egypt | 2.06 | 0.65 | 1.41 |
| Israel | 3.96 | 0.29 | 3.67 |
Source: WWF, 2012. Living Planet Report 2012
---
[1]  global hectares = 10 dunums