Palestinian Central Bureau of Statistics (PCBS)
Around 3.2 Million Visits to Tourist Sites in the West Bank in the First Half of 2014
On the occasion of World Tourism Day on September 27, the Palestinian Central Bureau of Statistics, in collaboration with the Ministry of Tourism and Antiquities, presents the following facts on tourism in Palestine.
During the first half of 2014, around 3.16 million visits were made to tourist and leisure sites in the West Bank. These included 1.69 million visits by domestic visitors and 1.47 million visits by inbound visitors.  The number of domestic and inbound visits grew by 26% and 19% respectively compared with the same period in 2013.
Most inbound visits were to Bethlehem governorate with 42%, followed by Jericho and Al-Aghwar governorate with 28%, and Jenin and Hebron with 11% each.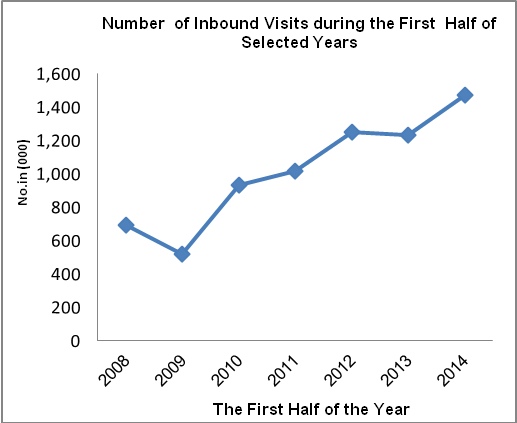 Third of Inbound Visits by Residents from 1948 Occupied Palestine
Palestinians residing in areas occupied in 1948 accounted for the largest proportion of inbound visitors with 34%, followed by 16% from Russia, 7% from the United States, 4% each from Italy and Germany, and 3% each from Poland and Indonesia.
Nablus Governorate Has Largest Proportion of Domestic Visits
Most domestic visits were to Nablus governorate with 22%, followed by Qalqilya and Tulkarm governorates with 17% each, Jenin governorate with 14%, while Ramallah and Al-Bireh governorate has the lowest share of domestic visits at 2%.
It should be noted that inbound and domestic visitor data do not include Jerusalem governorate and the Gaza Strip.
357 Thousand Hotel Guests Spent 855 Thousand Nights During the First Half of 2014 in West Bank Hotels
The number of hotel guests in the West Bank grew during the first half of 2014 to 356,609 hotel guests spending 854,815 nights, an increase of 30% compared with the first half of 2013.
Number of Guests by Nationality During First Half of 2013 and 2014

Nationality

2013

2014

 

Palestine

25,773

28,063

Israel

29,168

28,286

Asia

33,187

36,983

USA & Canada

21,922

35,680

European Union.

110,610

126,177

Other European States

29,203

74,696

Other Countries

23,663

26,724

Total

273,526

356,609

 

 

 

 

 
Guests were distributed by region as follows: 51% in the south of the West Bank, 31% in Jerusalem hotels, 14% in the middle of the West Bank, and 4% in the north of the West Bank. 
In June 2014, there were 113 hotels in the West Bank comprising 6,621 available rooms with a total of 14,675 beds.  
Around 6,593 Establishments Operating in the Tourism Sector in Palestine in 2012
There were 6,593 establishments working in the tourism sector in Palestine. The main operations included 3,490 restaurants, 965 outlets in beverage serving, 283 shops selling souvenirs and handicrafts, 229 working in antiques and wooden handcrafts, 270 car rental services, 126 providing services organizing trips to Haj and Umrah, 117 in short-term accommodation (hotels), 151 travel and tourism agencies, and a further 962 establishments engaged in related tourism activities like: creative, arts and entertainment activities, and other recreational activities.
Total Value Added of Tourism Activities in 2012 was USD 326.2 Million
The total value added of establishments working in tourism activities was USD 326.2 million: this was made up of 33% by accommodation activities, 29% by restaurants, 10% by other amusement and recreation activities, 9% by beverage serving activities, 6% by renting and operational leasing of passenger cars (without drivers), 3% by retail sale of souvenirs, craftwork and religious articles, and 10% distributed on the remaining tourism activities.
Most Outbound Tickets to Arab Countries
Around190  thousand tickets for outbound travel were sold in 2012:  68% for travel to Arab countries, 12% to Europe, 4% each to the United States of America and Africa, and 12% to various other countries.